McCarthy VP Mark Heit Serving as 2017 DBIA-MAR President
This entry was posted in News on April 7, 2017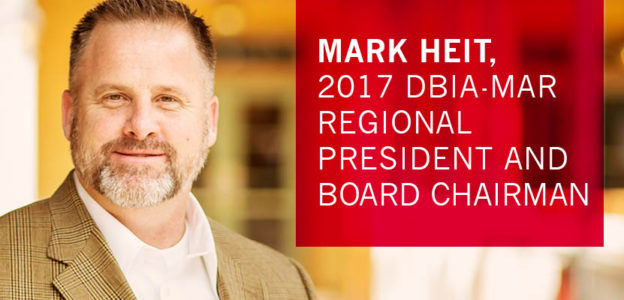 Overland Park, Kan. (April 7, 2017) – McCarthy Building Companies, Inc., is pleased to announce that Mark Heit, Vice President Operations, has been tapped to serve as the 2017 Regional President and Board Chairman for the Mid-America Region of the Design-Build Institute of America (DBIA-MAR).
DBIA is a national membership organization founded in 1993. The Mid-America Region seeks to inform, educate and promote design-build and integrated project delivery throughout its four-state region of Iowa, Kansas, Missouri and Nebraska. As Regional President, Mark is the liaison between DBIA-MAR leadership and DBIA National. He is responsible for financial and membership oversight while ensuring the Region's programs meet expected objectives.
"DBIA-MAR focuses its efforts on increasing the successful use of innovative design-build teams on non-residential building, civil infrastructure and process industry projects," said DBIA-MAR Executive Director, Oretta Smith. "We are proud to have Mark's wisdom, leadership and experience guiding the Mid-America Region of DBIA this year."
An expert in the use of alternative delivery methods, Mark Heit is a Designated Design-Build Professional. He leads business operations for McCarthy's Kansas City office. With 25 years of industry experience, Mark is responsible for the overall coordination and integration of the firm's services throughout the region. With experience working both in and out of the field, Mark has dedicated his career to delivering exceptional results for clients and partners from early in the design phase through final project completion and beyond.
In addition to his DBIA-MAR post, Mark is a member of the General Labor Committee for The Builders' Association, a board member for the Kansas City Chapter of the Associated General Contractors and a member of the Dean's Advisory Council for the College of Architecture, Planning and Design at Kansas State University.
About McCarthy
McCarthy Building Companies, Inc. is the oldest privately held national construction company in the country – with more than 150 years spent collaborating with partners to solve complex building challenges on behalf of its clients. With an unrelenting focus on safety and a comprehensive quality program that span all phases of every project, McCarthy utilizes industry-leading design phase and construction techniques combined with value-add technology to maximize outcomes. Repeatedly honored as a Best Place to Work and Healthiest Employer, McCarthy is ranked the 16th largest domestic general contractor (Engineering News-Record, May 2016). With approximately 1,700 salaried employees and offices in St. Louis; Atlanta; Collinsville, Ill.; Overland Park, Kan.; Phoenix; Las Vegas; Denver; Dallas; Houston; Albuquerque; and San Diego, Newport Beach, San Francisco, San Jose and Sacramento, Calif., McCarthy is 100 percent employee owned. More information about the company is available online at www.mccarthy.com or by following the company on Facebook, Twitter, LinkedIn, Instagram and Google+.