MO State Rep., Lincoln Hough, Receives National Leadership Award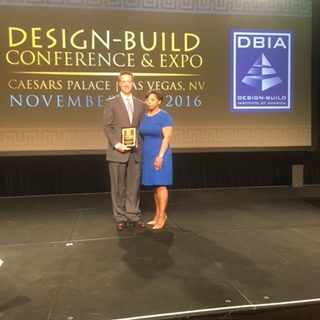 Missouri State Representative Lincoln Hough has recently been chosen as a winner of the Design-Build Institute of America's (DBIA) Distinguished Design-Build Leadership Award. These awards are presented to individuals across the United States who have demonstrated leadership in the passage of supporting design-build legislation, the advancement of effective design-build practices and in the promotion of design-build as a project delivery method of choice.
Last legislative session, Rep. Hough sponsored and passed House Bill 2376 into Missouri law, which authorizes political subdivisions such as cities, counties, and school districts, throughout the state of Missouri to utilize design-build. "This was a complex bill with many moving parts and interested parties. Rep. Hough skillfully negotiated while standing strong on core parts of the bill because he understood the importance of this issue to the industry and public owners," said Lisa Washington, CAE, Executive Director/CEO of DBIA.
These leadership awards are given to individuals in multiple categories of achievement that include Legislators, Academic Faculty, Students, Practitioners, and Young Professional and Owners. "Every single one of these award-winners is key to the growing use of design-build," says Washington. "Design-build spreads only through legislators authorizing it, professors teaching it, students learning it, practitioners mastering it, and owners choosing it. All of these award winners have spent a great part of their career advocating for not just design-build, but for Design-Build Done RightTM, and we are grateful for their tireless work."
Hough was presented with a leadership plaque today during DBIA's annual Design-Build Conference & Expo in Las Vegas.